Couple rescues man off coast of Queensland
Last week a commercial fishing trawler capsized off the central Queensland coast in stormy conditions. Two bodies were recovered inside the trawler, and one man was rescued after spending a night at sea. There were seven crewmembers on board.
The remaining four sailors have not been found, and given the time that has lapsed, it is unlikely they will be. The sole survivor was Ruben McDornan, a Cairns man who was above deck when the vessel began to sink.
McDornan clung to 'Diana's' hull until midnight when it finally sank in Bustard Bay, close to 1770. Tragically, McDornan could hear the screams of his crewmembers trying to escape while the vessel went under.
He floated in rough seas for hours until a couple on a yacht discovered him. Linda Priday heard McDornan's cries for help. She headed to the port side of the cockpit, turned, and saw him only five-metres from her.
Malcolm and Linda Priday, who found McDornan, described the rescue as 'emotional' and 'fortuitous'. McDornan was located approximately 20 nautical miles away from where Diana capsized.
Malcolm Priday told Nine News that conditions the night before had been rough.
"We had a couple of pretty rough nights in 1770. The night the trawler sank, we were getting gusts of over 35 knots in the harbour," he said.
The couple decided to sail to Pancake Bay with the swell behind them the next day. It turned out to be a decision that saved McDornan's life.
The couple had experience as commercial skippers, which paid off during the rescue. Malcom said he immediately hit the man overboard button. He then allowed the boat to drift towards McDornan, while Linda watched and pointed towards him the entire time.
McDornan had grazes and a deep gash on his leg. Once on board Malcolm said he hung onto one of their friends like he didn't ever want to let go.
His wife Sammy and his mother reunited with McDornan at Gladstone airport, and then joined authorities in the search for his crew. The search is now in recovery mode.
Our hearts go out to the young men who so tragically lost their lives at sea, and their friends and family. These tragedies are difficult to comprehend, and we can only say that we wish all of our clients and readers only the safest of adventures while on the water.
For updates on this story, please head to www.ninenews.com.au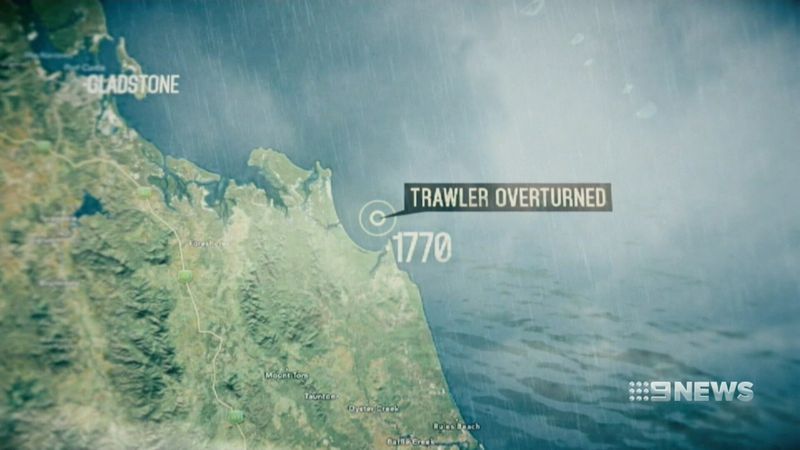 The boat sank at about midnight near Agnes Water, off the coast of the small town of 1770. (9NEWS)